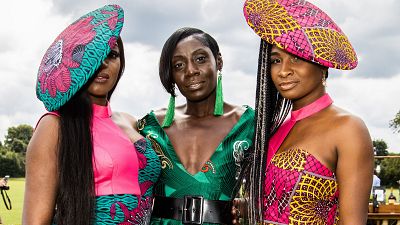 Europe's foremost African polo event graced London for the second time today at the prestigious Ham Polo Club, hosting a glamorous crowd of polo aficionados and those celebrating the style and joie de vivre of African culture.
A sea of well heeled guests, mostly head to toe in African inspired finery, proudly strutted one of the oldest polo clubs in the United Kingdom, to the soundtrack of Afrobeats and Fela Kuti, as Lux Afrique (LuxAfriquePolo.com) firmly marked its territory as the go-to annual African polo day.
Being so much more than a sporting event, but a celebration of African refinement and sense of occasion, the Lux Afrique Polo Day (LuxAfriquePolo.com) offered a myriad of attractions, all adding to the glamour and fun of the day. Fine dining of exquisite African cuisine was provided to guests courtesy of Waakye Leaf. The event also featured a shopping lounge in which deluxe brands, Backes & Strauss, Montegrappa and Yoko London, showcased their finest products.
The Polo itself was a thrilling affair with two opposing teams with similar handicaps battling it out in front of a captivated crowd, who paused their mingling and revelry to enjoy the spectacle.
The match was opened by Lux Afrique founder Alexander Amosu alongside the Director of The Sofa and Chair Company. Continue reading…